ABOUT PEGASUS TRANSIT

Whether you need help with single or multiple groups or managing your complete transportation requirements, your first call should be to Pegasus Transit, Inc. Our approach is to fully understand your business needs and then apply the combined logistics and transportation management expertise with our associates to provide tailored, customer-driven cost-effective solutions.
When you contact Pegasus Transit, Inc., services you can expect a personal relation, value, integrity, professionalism, honesty, flexibility, dependability, punctuality and expertise.
Company Profile:
Pegasus Transit, Inc. is based in the Ventura County and has all the authorizations from the Public Utilities Commission (PUC).
It has been extremely successful in developing outstanding dedicated customer service work teams.
Vision:
Provide the highest level of transportation services with our primary focus on safety and customer services for our clients with a vested interest in the expertise to present a logistics or transportation solution.
Mission:
Become the number one provider of transportation services in the Tri-Counties region.
Core Values:
...Our Clients
Provide Safety and Security
Treat our clients with the highest level of respect, courtesy and as family members
Personal Client Interaction
Support the adage, "the customer is always right"
A hands-on management style, i.e., "management by walking around"
Attention to detail
Openness to innovation and creativity in serving clients
Mold to client's necessities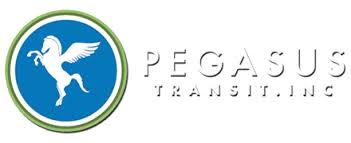 Please call us at 1-888-PEG-TRANS or 805.988.1540 for rates or quotes regarding services.
For additional information and questions, please contact:
Melvin Fountain
Sales/ Customer Service
805-988-1540